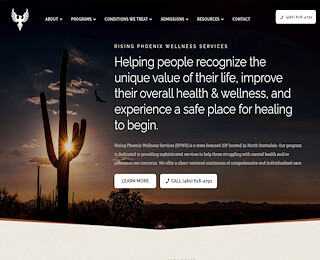 Unsupervised, DIY drug and alcohol detox is dangerous procedures, which are both ineffective and potentially life-threatening. Depending on your situation, you may need inpatient or outpatient drug rehab in Scottsdale. At Rising Phoenix Wellness Services, we offer in-depth clinical assessment, allowing our experts to recommend a course of action based on your addiction specifics and needs.
Benefits of inpatient vs. outpatient drug rehab
You're struggling with withdrawal every day and are ready to begin the rehab, but which rehabilitation program should you choose? Each program comes with specific benefits, depending on your overall health status, mental state, and addiction-related information.
Inpatient program benefits
Our Arizona treatment center relies on inpatient treatment to build upon the foundation of the detox program. The inpatient care program begins right after detox, offering therapy, medical services, psychiatric care, counseling, etc., to promote stability, sobriety, and personal growth. The benefits include:
24/7 supervision and monitoring during the program, providing a plus of security and comfort
Multidisciplinary treatment procedures
Continuous medical and psychiatric assistance
Controlled environment, ideal for preventing relapse
Faster and more sustainable recovery
Home-like environment, promoting healing, relaxation, and introspection
The inpatient program is only one component of the recovery treatment at our Arizona addiction recovery center. Scottsdale drug and alcohol treatment also includes outpatient care, detox, dual diagnosis, and alumni services.
Outpatient program benefits
The outpatient program follows the inpatient treatment, relying on a lower level of care based on weekly therapies and counseling sessions. The benefits you will be experiencing during outpatient treatment at our Scottsdale addiction treatment center include:
Lower costs due to part-time treatment
A higher level of confidentiality, since it's easier to hide your participation in outpatient care than it is with inpatient ones
Peer support throughout the program
The opportunity to return home after treatment
Enjoy your family's company during the program
Promoting community, social reintegration, and responsibility, among other things.
The outpatient program is ideal only for individuals dealing with mild forms of addiction. You can only qualify for the rehab program if you've already completed the inpatient treatment or are stable enough to skip it entirely.
What rehab program to choose from?
Deciding on the rehab program of choice on your own is no easy task. That's because you lack access to critical information that would help you to decide easier. This includes your addiction's severity, the existence of co-occurring disorders, your overall health status, etc. If you're ready to begin our Scottsdale rehab for addiction treatment, we advise checking with our professionals today.
They will perform an in-depth clinical and psychiatric assessment before treatment, learning everything they can about your case's specifics. Based on the findings, they will recommend a course of action for maximum benefits.
Whether you need inpatient care or outpatient drug rehab in Scottsdale, Rising Phoenix Wellness Services is here to serve you. Call our team of counselors at 480-589-0895 and discuss your treatment and payment options today! Remember, the sooner you join the rehabilitation treatment, the easier it will be to adopt a healthy, clean, and fruitful lifestyle post-addiction.